Manually opening a wine bottle may be challenging due to the logistics involved. You may not be able to release the cork or, even worse, you may shatter the cork, causing your wine to deteriorate. Because corks become brittle with age, the likelihood of breaking a cork using a manual corkscrew increases.
Electric wine openers alleviate this age-old difficulty for wine lovers: simply position the corkscrew over the bottle and click a button. Electric corkscrews are great for parties, elderly individuals, persons recovering from injuries, and people with movement or strength issues. Buying an electric wine opener seems simple until you get the wrong one. To ensure pleasure and success, there are a few things to consider before buying.
BEST ELECTRIC WINE OPENERS TO KEEP YOUR WINE FLOWING WITH EASE
1. Cuisinart Vacuum Sealer Cordless Wine Opener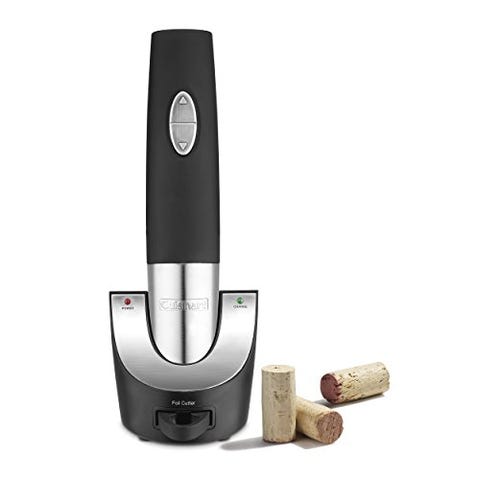 This sleek silver and black Cuisinart uncorks 80 bottles on a single charge, and it looks great doing it. This bottle opener comes with a foil cutter, which can be stored in the charging base when not in use. It also serves as a resealer, which is particularly useful if you plan to consume your bottles over a period of several nights. The oxidation process begins after a day or so, even if the wine has been refrigerated, and this can cause undesirable flavors to develop.
Bonus: Using a vacuum sealer, you can create an airtight seal that keeps food fresh for longer periods of time.
2. Ivation Electric Wine Opener + Gift Set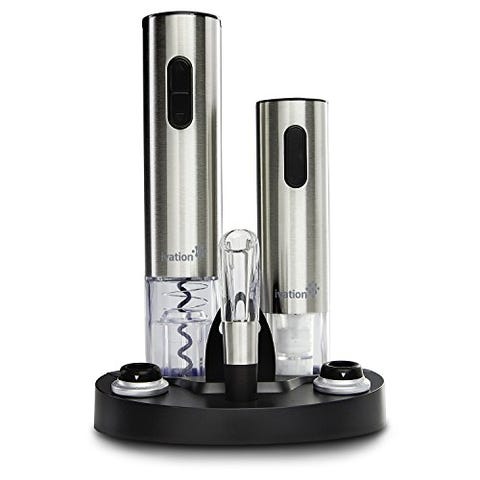 This electric wine opener set, created by a sommelier, is an excellent beginner kit for oenophiles, and it can open up to 30 corks on a single charge.
An electric vacuum preserver pump, two airtight stoppers, an aerating pourer, a charging station, and a foil cutter are all included in the seven-piece set. Reviewers commended its simplicity of use as well as its all-in-one method to wine preservation. It is also suitable for use in a bar cart due to its appealing silver and white appearance.
3. iTronics IC700 Electric Wine Opener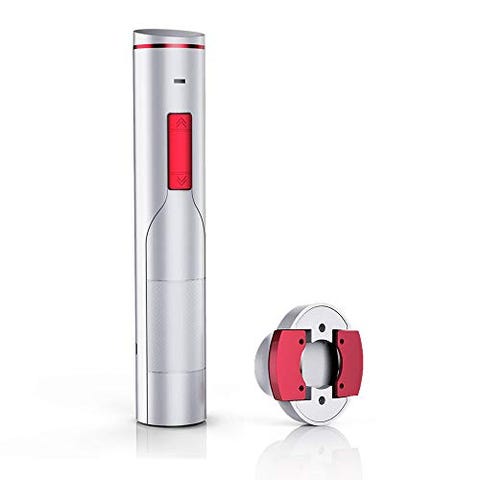 When fully charged, this electric wine opener can open up to 180 corks with one charge, at a blistering average speed of 7 seconds per cork. Also included with this model is a foil opener, as well as an integrated rechargeable battery and a USB cord for charging the unit. Its soft-grip handle and simple mobility are among the reasons why it is so popular with customers.
4. Rabbit Automatic Electric Corkscrew
If you're looking for a simple-to-use, compact opener, this is a fantastic choice that's well worth the money. Incredibly compact and lightweight, this opener can open up to 30 wine bottles on a single battery charge. The opener instantly removes the cork from the bottle when it comes into touch with it, and then automatically ejects it from the corkscrew—there are no buttons to press. A micro-USB wall charging unit, as well as a built-in foil cutter, are also included.
5. Brookstone Automatic Wine Opener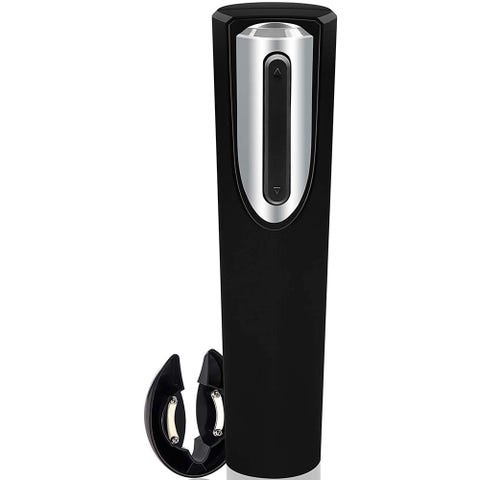 With a single touch, this Brookstone electric corkscrew removes corks with ease. Wine opener and base with a built-in foil cutter are included in the set. When not in use, the base serves to contain the opener, making it a convenient item to keep on the bar cart. The sleek appearance will be an asset if you chose to leave it out on the counter top. There are four AA batteries required for this opener (which are not included) and it can open up to 400 bottles before needing to be replaced. A number of reviews remarked on how easy it is to open the bottle, thanks to the inclusion of a built-in foil cutter.
6. iZiv Electric Wine Opener Set
This iZiv electric wine opener can pop a cork in seconds and remove up to 60 corks before it needs to be recharged. It can be used for both red and white wines. The iZiv comes with a reusable wine preserver that helps to keep oxygen out and taste in while simultaneously acting as an aerator by dispensing wine through a drip-proof tulip-shaped spout that is easy to clean. A package box, an electric opener, a vacuum wine stopper, a wine pourer, and a foil cutter are all included in the set.
7.
Wine Ziz Wine Air Pressure Pump Bottle Opener
The revolutionary air pump wine opener is a simple, straightforward and fast way to open a bottle of wine without the hassle of pulling and twisting. Prevents cork damage
Best method for quickly opening a wine bottle. No twisting, pulling, or broken cork. Compatible with all wine bottles. The Air Pressure pump works without gas or emissions.
The ZIZ Wine foil cutter simply removes the foil top from your wine bottle with a fast flick of the wrist, leaving your glass bottle looking excellent, with smooth edges and ready for cork removal.
Bar, restaurant, or residential use. The flat surface is easy to clean. Excellent wine lover gift idea.
8. SENZER Electric Wine Opener Set Automatic Wine Bottle Opener
Set includes foil cutter, wine stoppers, aerator and pourer.
In seconds, a simple push-button removes corks Simple to use, just set the opener on top of your wine bottle, push the button, and your wine is ready to drink. The button on the corkscrew can be used to remove corks in seconds as well.
In addition to the aerator, the vacuum stopper keeps your wine fresh for up to 7 days.
9 inches high x 1.8 inches wide, little bottle opener When not in use, it can be stored adjacent to a storage rack or a fridge
9.
Electric Wine Opener Set, Zupora Cordless Wine Bottle Opener
The elegant electric wine opener has a stainless steel design with a transparent shell protecting the corkscrew mechanism. For the wine lover who enjoys the latest technology. No guessing!
The cordless electric bottle opener removes the cork in 7 seconds. Comes with a foil cutter for easy seal removal. One vacuum pump with two bottle stoppers to preserve the wine's flavor.
Includes power adapter and USB charging cable for convenient and eco-friendly charging. AC adapter, power strip, power bank, laptop and other USB charging devices.
Internal 500mAh lithium-ion battery One charge opens up to 80 bottles. One up/down button facilitates everyday opening.
10.
Secura SWO-3N Electrical Wine Bottle Opener
Wine bottle opener with a cordless electric motor that opens in seconds and removes the cork
It has a stainless steel body with a clear shell around the corkscrew action, so there is no guesswork involved with this elegant Electric Wine opener.
Compact design with built-in rechargeable battery that opens up to 30 bottles on a single charge; easy push-button operation
A foil cutter is supplied to make it simple to remove seals; an elegant charging station with a blue LED light completes the package!
These are the greatest electric wine openers that we've found to make it easy to keep your wine flowing. They're all listed above. I believe it will be quite beneficial to you. In the event that you are pleased with any goods, simply click on the link provided below each product. Thank you for taking the time to read this!